About the Community Advisory Committee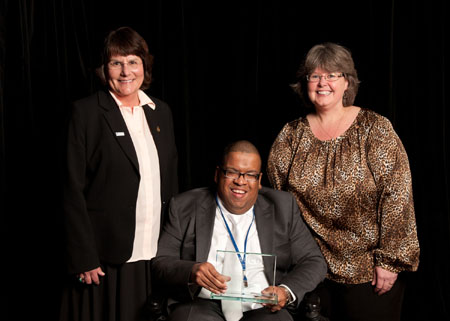 FCIC CAC Receives COCA Award from AUCD!
December 2013
Each year during the Association for University Centers on Disabilities (AUCD) Annual Conference , an Awards Gala is held to honor individuals, groups or programs for their exemplary work and service. The FCIC is the proud winner of this year's AUCD Council on Community Advocacy Award! It is given to the UCEDD that has exhibited the strongest commitment to support the full and active participation of self-advocates and family members on its consumer advisory council.
UCEDD program
. The UCEDD must involve consumers, in the form of a committee, who represent individuals with disabilities in the State, including those who come from culturally and linguistically diverse backgrounds.
Mandated under the Developmental Disabilities Assistance and Bill of Rights Act of 2000, the Community Advisory Committee (CAC) is one of the primary advising and guiding bodies for the Florida Center for Inclusive Communities. The CAC is to advise FCIC's directors and provide guidance and feedback in the development of the 5-year plan. Each year, the CAC also provides guidance and feedback on how the UCEDD is doing with their 5-year plan.
The role of the Community Advisory Committee is to strengthen the work of the Florida Center for Inclusive Communities by:
Serving in an advisory capacity,
Assisting with the dissemination of information and resources,
Meeting 4 times a year (1 face to face meeting in Tampa, 1 webinar style meeting and 2 conference calls),
Advocating for, and on behalf of, the center and its work, and
Advising and informing staff about other relevant organizations, programs, networks or activities that may provide opportunities collaboration.
Consumer involvement and input is a crucial component of any
The majority of the members of the Community Advisory Committee (CAC) shall be individuals with developmental and related disabilities, and family members. The CAC must also include representatives from state agencies and other community groups concerned with the welfare of individuals with developmental disabilities and their families.
Self-Advocates
Arizona Jenkins
Chairperson
Tampa, FL
Erica Turner
Panama City, FL
Krystal Sims
Port St. Lucie, FL
Mildretta Williams
Daytona Beach, FL
Family Representatives
Reneť Edwards
Vice-Chairperson
Merritt Island, FL
Deborah Jones
Milton, FL
Lynn James
Ft. Myers, FL
Elizabeth Petruzzi
Vero Beach, FL
Keli Mondello
North Redington Beach, FL
DD Network Partners
State Agency Representatives
FCIC is seeking interested self-advocates and family members to serve as members on the Community Advisory Committee. The Community Advisory Committee is charged with the responsibility of advising FCIC staff, helping us achieve the FCIC mission. CAC membership is a 3-year renewable commitment. A stipend is provided and your travel costs are covered. See the About the CAC tab to learn more about the CAC member role.
Interesting in becoming a CAC member?
Download flyer announcement.
Fill out the application form and submit via email or fax to:
Brenda Clark
FCIC CAC Liaison
bclark7@usf.edu
phone 813-974-2581
fax 813-974-6115

Florida Center for Inclusive Communities
University of South Florida
13301 Bruce B. Downs Blvd. MHC 2113A
Tampa, FL 33612
This form can be submitted at any time and will be kept on file for consideration when openings on the CAC become available.
If you have any questions or need assistance with completing your application please call (813) 974-2581 or email Brenda Clark. Forms are available in alternate formats upon request.
Videos Featuring FCIC CAC Members
Got Inclusion?: Why Inclusion is Important
Got Inclusion?: What Does Inclusion Mean to You
Got Inclusion?: Making It a Reality
Got Inclusion?: Educating Legislators
Got Inclusion?: Addressing Fear
Got Inclusion?: Integrated Employment
Got Inclusion?: Community
Got Inclusion?: Schools
Real People Achieving Success Through Inclusion
video lightbox by VideoLightBox.com v3.0
FCIC Community Advisory Committee (CAC) members provide input and guidance in the development of the FCIC work plan. On an ongoing basis CAC members continue to review the status of the work plan and its impact on the quality of life for individuals with disabilities. Full inclusion and participation of CAC members empowers the members to provide critical feedback to create and the move toward the vision of FCIC. The involvement of the CAC serves as an informal bridge between FCIC and the community throughout Florida. The current FCIC work-plan and minutes of the FCIC CAC meetings are available to provide current information to members.
Available Documents for Download:
Meeting Minutes:
If you have any questions about the CAC or Library contents please contact::
Brenda Clark
FCIC CAC Liaison
bclark7@usf.edu
phone 813-974-2581
fax 813-974-6115

Florida Center for Inclusive Communities
University of South Florida
13301 Bruce B. Downs Blvd. MHC 2113A
Tampa, FL 33612